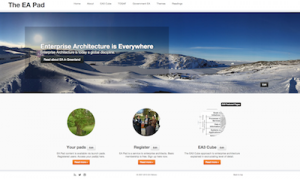 The place to go for information about the EA3 Cube approach to enterprise architecture.
The website offers both freemium and premium content. The site is also a gated community for EA Fellows clients.
This service is yet to be released as a proper app, but the website is designed to work well on mobile devices.
More services will be launched in 2015.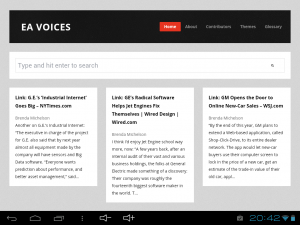 The EA Voices Website + App
A river of news and opinions about enterprise architecture, EA Voices is a thematic aggregator of enterprise architecture blog feeds.
Behind the scenes: A robot fetches blog posts from over 100 enterprise architecture bloggers within the hour of being published. The database contains over 4000 posts and 2 million words. Around 100 posts are added every month.
---
Get our EA Glossary Native App for iOS, Android, Blackberry, Symbian, webOS and Windows Phone.
The apps are not in an app store, so you must set your devise to accept untrusted apps.
If your devise supports QR codes (get an app for that) just scan the QR code here: