Book of the month – February 2023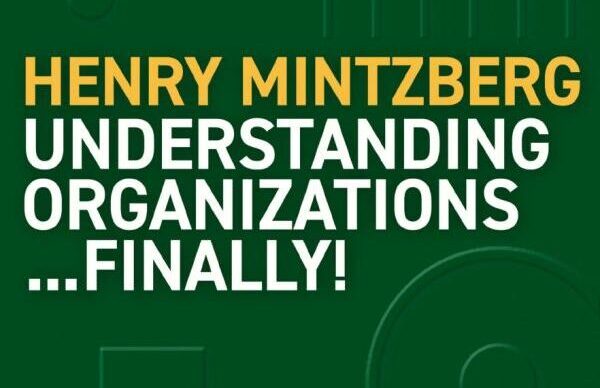 Understanding Organizations …Finally! by Henry Mintzberg
The book is a comprehensive and insightful exploration of the different ways in which organizations operate. The author draws on his extensive research and experience in the field of management. The readers will gain a deeper understanding of how organizations function, and how they can be managed more effectively.
The book is divided into seven main sections, each of which explores a different aspect of organizational behaviour ranging from nuances of decision-making to viewing organization through a system of forces. Frankly, the latter was my favourite takeaway from the book. It is build upon the idea that each form of the organization is pervaded by the salient forces. This is why the organizations structure themselves the way they do.
In essence, there are 4 main or prevalent forces, which correspond to 4 organizational forms. These are consolidation in the personal organization and collaboration in the project organization, efficiency in the machine organization and proficiency in the professional organization. Mintzberg points out that the force encourages the form and the form gives license to the force. That is to say, together they reinforce each other. It is a very logical idea, because it provides an explanation to why implementing any major change in the organization is hard and can be met with resistance on multiple levels.
All in all, Mintzberg draws on a wide range of examples to illustrate his points, making the content accessible and engaging for readers. He distilled years of experience and research into this book, providing a range of practical tools and frameworks that can be utilized from the get go.
Who would benefit from reading this book?
Overall, this book is a valuable resource for anyone looking to gain a deeper understanding of how organizations function. Whether you are a seasoned manager or a new entrant to the field of organizational management, this book provides valuable insights and practical advice that can help you succeed in your role.
The book can be purchased in print in your favourite bookshop. There is also a Kindle version available on Amazon.
If you want to check our previous Book of the Month selection, you can find it here:
Book of the Month – Holistic Enterprise Architecture for Mergers and Acquisitions by Scott Bernard