Book of the Month – October 2022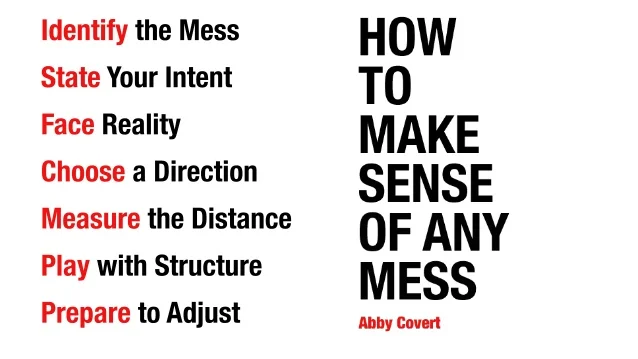 How to Make Sense of Any Mess by Abby Covert
The world is messier now that it has ever been before. What's even scarier to think of is that tomorrow the messes that exist today would be even more messy. The main idea of the book is very well described by its title – it is about making sense of messes. 
You might ask what does the mess mean? To borrow from Abby Covert, a mess is "any situation where something is confusing or full of difficulty". We, as enterprise architects, encounter messes daily. In fact, we are often called in those moments when the mess has reached its peak and the organization urgently needs someone to make sense of it all.
A couple of months ago, we have covered systems thinking, which in essence, provides a plethora of generalized models and approaches to analyzing complex systems. It shows how interconnected and intertwined everything is. Good architects are those who understand systems-of-systems, so they are able to work with complexity and uncertainty. Fundamentally, Abby Covert gives yet another tool or better yet mindset to grasp the complexity around us and make sense of it.
What is refreshing though, is that Abby Covert's approach is clear and concise, and so are the ideas that she presents in the book. One of the ideas that stuck with me was that great information architecture is invisible, yet crucial for all dependent and / or related processes to run smoothly. I think about enterprise architecture in much the same way. If done right, it should create a transparent organization, make collaborations easy and streamline decision-making process, because the goal of enterprise architecture is not to create the architecture for the sake of it, but to ease the work of people within it or outside of it.
Who can benefit from reading this book?
We genuinely love this book at EA Fellows and can't recommend it enough. It only takes a couple of hours to read through, but it is well worth your time. As an enterprise architect, you are more often than not facing the messes and this book helps by giving a solid advice on where to begin sense-making to find the way out of the mess once and for all.
Abby Covert's How to Make Sense of Any Mess is available in print and e-book format on the usual bookshops. There is also a freely available online version at https://www.howtomakesenseofanymess.com/ (but do buy your own copy and support her work!)
If you want to check our previous Book of the Month selection, you can find it here:
Book of the Month – Corporate Explorer by A. Binns, C. O'Reilly and M. Tushman